In November 2019, Jaburg Wilk Partners Nate Meyer, Tom Moring, and Micalann Pepe tried a two-week, breach of contract and insurance bad faith case to a jury in Graham County, Arizona, and won a unanimous defense verdict for USAA. The case arose from a homeowner's claim that Plaintiffs made to USAA after wind and rain storms in Thatcher, Arizona, in June and July 2013.
Breach of Contract
Plaintiffs argued that wind-driven rain caused $147,000 of covered exterior and interior damages, necessitated the complete replacement of Plaintiffs' roof, and the repair of significant interior water damage.
Jaburg Wilk argued that Plaintiffs' house had numerous construction defects, so:
USAA properly paid Plaintiffs about $3,750 (after a $500 deductible) for the covered "sudden and accidental" exterior damages and covered interior ensuing damages; and
USAA correctly denied coverage for the additional claimed damages because the additional damages were:

not "sudden and accidental," as required by the Insuring Clause of the Policy;
excluded by the Construction Defect Exclusion and Insured Neglect Exclusions, among other exclusions; and
precluded by Plaintiffs' breaches of the Duty to Protect the Property after a loss and the Duty to Make Reasonable & Necessary Repairs after a loss.
Bad Faith
Plaintiffs argued USAA breached the duty of good faith and fair dealing by:
not issuing a reservation of rights letter at the beginning of the claim;
allegedly not disclosing all coverages to Plaintiffs;
allegedly using an unqualified Independent Adjuster;
allegedly conducting inadequate inspections;
allegedly issuing "low-ball" estimates;
allegedly issuing a "low-ball" payment;
not sending a partial denial letter;
allegedly retaining an unqualified expert; and
refusing to appraise the entire loss (regardless of coverage).
Jaburg Wilk argued USAA did not breach the duty of good faith and fair dealing because:
It was unnecessary to issue a reservation of rights letter because Plaintiffs were aware of the coverage issues and could not have mistaken USAA's continued investigation as a promise of a significant, future payment.
USAA reasonably relied upon two thorough inspections conducted by a licensed Independent Adjuster with over 25 years' experience.
USAA's coverage determination was correct and reasonable, in part, because every person (including Plaintiffs) who visited the Property observed or reported construction defects.
USAA's estimates and payment were reasonable.
It was unnecessary to send a partial denial letter because USAA orally advised Plaintiffs (and Plaintiffs understood) that USAA denied most of the claim based on the Construction Defect Exclusion.
After USAA re-opened its investigation, USAA reasonably relied upon the thorough inspection and opinion of a forensic structural engineer that construction defects rather than the 2013 Storms caused the extensive interior damage.
USAA reasonably refused to appraise the entire loss because only a small portion of the loss was covered and appraisal is not appropriate for coverage or scope of damage issues.
Plaintiffs caused most of the damages because, in the six years since the 2013 Storms, Plaintiffs performed almost no repairs.
Experts
During trial, USAA called Ricard Sicuranza as a claim handling expert, Marcor Platt as an expert Forensic Engineer, and Jim Speros as an expert General Contractor. Plaintiffs called David Frangiamore via video as a claims handling expert and Michael Peterson as an expert General Contractor.
Settlement Negotiations
Other than an early Offer of Judgment served with the Complaint, until two weeks before trial, Plaintiffs did not demand less than $800,000. Then, over the two weeks before trial, Plaintiffs' demand dropped to $127,000.
Plaintiff's Prayer for Relief
During closing arguments, Plaintiffs asked the jury to award $441,000 to $807,000 for the remediation and repair of the property, as well as emotional distress.
Verdict
The jury returned a unanimous defense verdict in favor of USAA after only 90 minutes of deliberation.
The Jaburg Wilk Trial Team
Nate Meyer has been recognized as a "Super Lawyer" in Insurance Coverage since 2014 by Southwest Super Lawyers; a "Top-Rated" lawyer in insurance and commercial litigation by American Lawyer Media and Martindale-Hubbell since 2014; one of "Arizona's Finest Lawyers" by Arizona's Finest Lawyers since 2014; and has an "AV Preeminent" peer review rating—the highest rating a lawyer can attain—by Martindale Hubbell since 2012. Nate is the Vice President of the Arizona Chapter of CLM and a member of CLM's Extra-Contractual Subcommittee.
Tom Moring is a seasoned trial attorney and is one of the top litigators in Arizona. He has been lead counsel in over 30 commercial trials in which the amount in controversy has exceeded $1M. Tom believes strongly in pro bono work and twice has been named Attorney of the Month by Volunteer Lawyers Program and pro bono attorney of the year by Intel.
Micalann Pepe was recently elected as a Member of the Federation of Defense & Corporate Counsel; has been recognized as a "Rising Star" in Insurance Coverage since 2015 by Southwest Super Lawyers; is Vice Chair of the American Bar Association's Insurance Coverage Litigation Committee, Property Insurance Law Committee, and Self-Insurers and Risk Managers General Committee; was named an Associate Fellow by the Litigation Council of America; has also earned an "AV Preeminent" rating from Martindale Hubbell; and serves on the Arizona Association of Defense Counsel Board.
If you would like additional information regarding Arizona insurance coverage and bad faith cases or Nate and Micalann's insurance coverage and bad faith practice, please contact Nate at 602.248.1032 or ndm@jaburgwilk.com or Micalann at 602.248.1043 of mcp@jaburgwilk.com.
If you would like additional information regarding Tom's commercial litigation and trial practice, please contact Tom at 602.248.1049 or tsm@jaburgwilk.com.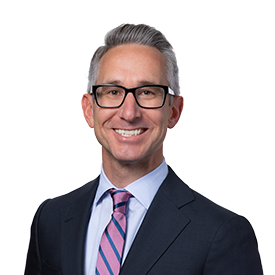 Nathan Meyer
Nate is a partner at Jaburg Wilk in Phoenix, Arizona. His practice focuses on insurance coverage, bad faith litigation, commercial litigation, general liability litigation and professional liability litigation. He represents insurance companies, contractors, policy holders, global corporations, insurance adjusters, business owners, insurance agents and professionals. If you have questions about insurance law contact Nate at 602-248-1032 or ndm@jaburgwilk.com